What has started as a bachelor thesis on camera networks has evolved into a startup company with a staff of five people.

Bernhard Rinner
In 2014 Michael Gruber started his bachelor thesis at the Pervasive Computing group by investigating different software tools for simulating distributed algorithms in multi-camera networks. Together with his supervisor Melanie Schranz – at that time teaching and research staff member at NES – he explored the Unity game engine as a simulation framework for camera networks and developed a simulator prototype. He completed his bachelor thesis entitled "Smart Camera Network Simulator in January 2015 which was also presented as a demo paper at the International Conference on Distributed Smart Cameras.
With support from KWF, build and Lakeside Labs, Michael Gruber continued working on exploring Unity as a simulation environment – but now in an industrial context. The key objective was to develop a virtual version of production lines which can be easily composed and modified. The key benefit of this "digital twin", as Gruber calls the developed virtual production line, is its flexibility. Customers can quickly check the functionality and assess changes and expansions of their production facilities with high accuracy.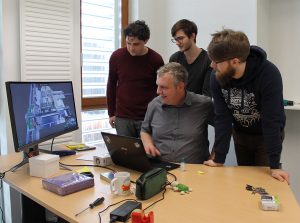 In February 2018 Michael Gruber officially launched his startup company Sensolligent with a staff of five people and first orders from the wood industries. Sensolligent is currently hiring and has an ambitious business plan for the coming years. A success story rooted at our research group!